You can not select more than 25 topics
Topics must start with a letter or number, can include dashes ('-') and can be up to 35 characters long.
README.md
Terrarium
Application web qui met en graphiques les mesures de température et d'hygrométrie ainsi que la vidéo surveillance d'un terrarium munie d'un Raspberry PI.
Le Raspberry PI utilisé est le modèle 4 avec 2Go de RAM muni de Raspbian Lite. La vidéo s'appuie sur la caméra fisheyes à vision nocturne et le logiciel Motion combiné au frontend MotionEye. Le capteur est un AM2302 et mesure la température et l'hygrométrie.
Lire l'article de blog dédié à ce projet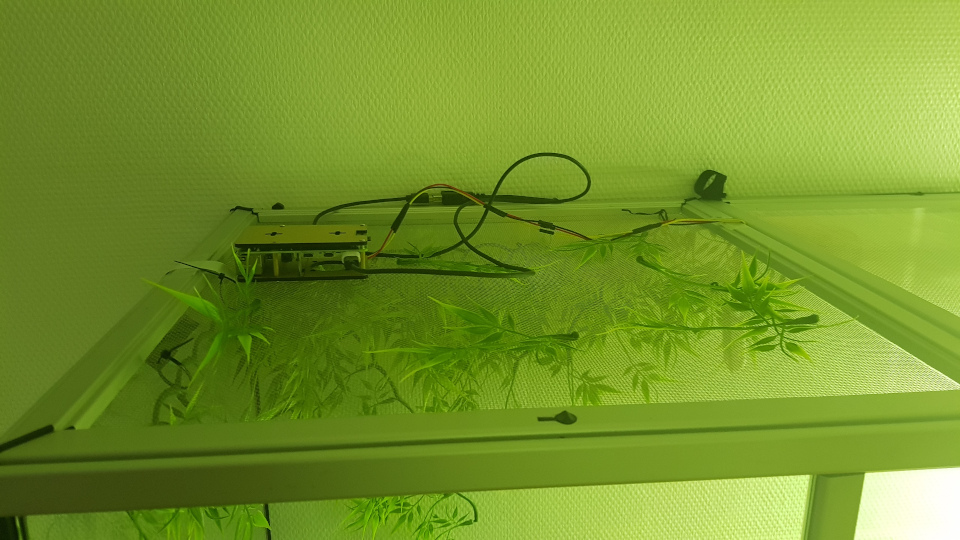 Installation
Récupération du projet et installation des dépendances
Développé et testé avec PHP 7.4, composer et npm requis.
git clone https://gitnet.fr/deblan/terrarium-web.git
cd terrarium-web
composer install
npm install

Configuration
Éditer le fichier .env et renseigner DATABASE_URL. Indiquer également l'adresse web de la caméra (via motion).
php bin/console doctrine:migrations:diff
php bin/console doctrine:migrations:execute --up XXXXXXXXXXXXX

Exemples d'appels à l'API avec httpie
Ajouter une mesure de température :et une mesure d'hygrométrie :
http POST 'https://application/api/temperature/create' date='2020/04/04 18:40:02' value=30.200000762939453

Ajouter une mesure d'hygrométrie :
http POST 'https://application/api/hygrometry/create' date='2020/04/04 18:40:02' value=25.799999237060547

Videos
Les vidéos générées par Motion doivent être copiées dans public/motion/snapshots. Voici le script qui réalise la copie depuis le serveur de l'application web :
#!/bin/sh

SNAPSHOTS_DIRECTORY="$HOME/web/motion/snapshots/"

rsync -avz --exclude lastsnap.jpg $1 --delete pi@terrarium:/var/lib/motioneye/Camera1/ "$SNAPSHOTS_DIRECTORY"

for PARENT in "$SNAPSHOTS_DIRECTORY"*; do
  for MOVIE in "$PARENT"/*.mp4; do
    THUMB="$(echo "$MOVIE" | sed 's/.mp4/.jpg/')"
    MIDDLE=$(ffprobe "$MOVIE" 2>&1 | grep Duration: | egrep -o "[0-9]*:[0-9]*:[0-9]*.[0-9]*" | awk -F ':' '{print ($3+$2*60+$1*3600)/2}')

    ffmpeg -i "$MOVIE" -vcodec mjpeg -vframes 1 -an -f rawvideo -s 300x168 -ss $MIDDLE "$THUMB"
  done
done